Posted By RichC on March 18, 2010
A few long time blog readers remember my blogging and supporting Earthrace her captain publicizing renewable fuels in a record breaking trip(s) around the world a couple years ago. More recently Captain Pete Bethune and his renamed vessel, Ady Gil, became part of an anti-poaching marine wildlife conservation organization called Sea Shepherd – see previous post –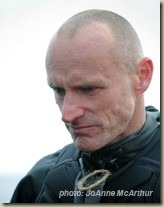 which has been trying to stop Japanese whaling near Antarctica. Unfortunately in an incident in international waters, a large steel hulled Japanese whaling vessel Shonan Maru No.2 headed toward the fiber composite Ady Gil and either purposely rammed or steered too close and split the high tech futuristic boat in two. The Japanese vessel hosed down the crew with water cannons as the splintered boat floundered. The large Japanese whaling ship continued without lending assistance … even after radio calls for help. The Ady Gil was eventually rescued by the Bob Barker and although attempts were made to keep the Ady Gil afloat, the crew wasn't able salvaged her and she sunk. No injury to people was reported.
On January 15, 2010, empowered by New Zealand law (according to PR release), Captain Pete Bethune attempted to serve the captain of the Shonan Maru No.2 with a "citizen's arrest" and was thwarted. A second attempt was made to serve an arrest warrant on February 15th along with an invoice for the loss of the Ady Gil and this time Pete Bethune was detained and taken back to Japan on the Shonan Maru No.2. He is currently in a Tokyo jail where he is awaiting formal charges and possible trial. Bethune lawyers and the Sea Shepherd organization is working in an effort to resolve the situation, but those who support Pete are asked to send him a email of support (instructions below).
1)   Send e-mail encouragement.
Captain Bethune wants to hear from you. Knowing that people are supporting him fuels his spirit. You may e-mail letters of positive support to Captain Bethune at: supportpete@seashepherd.org

Please note – Captain Bethune can only review your emails during his attorneys' daily visits, so please keep them brief. He will not be allowed to keep these printouts in his prison cell, and he will not be permitted to respond. However, please know that he will appreciate these emails tremendously!

2)  Know what not to do.
Given Japan's unique cultural and legal etiquette, it is equally important to behave with sensitivity and know what not to do. We know you would not intentionally do anything to negatively impact Captain Bethune's case, so there are a few critical things you should know:

Now is not the time to exert international pressure on Japan.
Please refrain from appealing to the Japanese government with emails, phone calls, and/or protests on behalf of Captain Bethune. He has specifically asked that we not mount any sort of campaign to appeal for his freedom at this time, as doing so may actually be counter-productive to his situation.
No visitors or gifts are allowed.
Captain Bethune is not able to accept any gifts, food, or visitors at this time. So please, channel your positive energy instead into emails to Captain Bethune.  Don't worry – his attorneys are ensuring that his needs are met and that he remains in good condition.
Additional thoughts …
For those concerned about the whaling industry or slaughter of sea mammals which has been given up by most of the civilized world – Japanese excluded – perhaps you'll be interested to monitor the Sea Shepherd website or check out the recent Academy Award winning documentary movie The Cove (or TakePart site) focusing on the crude killing of dolphins. Having worked in the early 1980s with orcas, beluga whales, manatees and dolphins at Sea World, the practice of herding and killing these intelligent animals needs to be stopped. As an avid sportsman (pro-hunting and fishing) and someone who respects the environment, our society needs to pressure mankind to move away from this practice (already done in most of the world) … especially on the industry scale of today's Japanese factory ships and "cove" type slaughters.