Posted By RichC on January 9, 2011
Can't say I like the "flames ad" (below), but I do like the new Chattanooga Tennessee built 2012 Volkswagen Passat … especially with a diesel and what appears to be attractive pricing, at least for the entry level? (this is yet to be seen for the TDI diesel version which should get impressive fuel economy)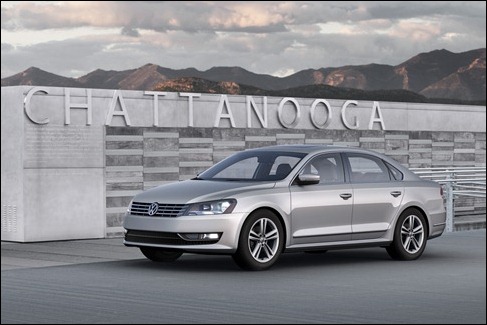 As part of the Volkswagen quest to carve out an ever-larger slice of the American auto market, the German manufacturer has unveiled the newest addition to its lineup – the 2012 Passat. Penned specifically to cater to big-boned tastes of American buyers, the next-generation sedan wears a 110.4-inch wheelbase to make it larger than any of its predecessors. Even so, VW says that when the Passat goes on sale later this year, it will arrive with a price tag of less than $20,000. Buyers will be able to choose one of three different power train options, including two gasoline engines and one diesel powerplant.

Things get started with a 2.5-liter five-cylinder gasoline engine with 170 horsepower and 177 pound-feet of torque, followed by a 2.0-liter turbo-diesel four-cylinder with 140 ponies and 236 pound-feet of twist. Those who opt for the top-of-the-line mill will be rewarded with a 3.5-liter V6 with 280 hp and 258 lb-ft of torque.

The 2012 Passat will be built at the new VW manufacturing facility in Chattanooga, Tennessee later this year.