Posted By RichC on June 2, 2011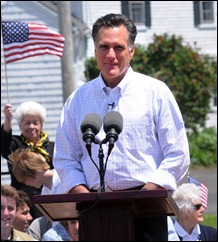 The Republican heavyweight contender (at least in raising campaign funds) has announced his candidacy for presidency today at an event in New Hampshire. It was an expected move from a somewhat calculating and predictable politician/businessman – perhaps something the country needs?
Former Governor Mitt Romney, a hardened campaigner, made the announcement at the Bittersweet Farm in Stratham, New Hampshire as the economy sputters, stocks skid and job growth numbers come in well behind predictions. Too many Americans are still both applying for first time unemployment benefits and are finding themselves continually 'un' or 'under'employed. Manufacturing output isn't showing signs of improvement and housing prices continue to slump in many areas of the country. Even former Clinton Secretary of Labor, Robert Reich, recognizes that the President Obama and the Democrats aren't getting the job done: "The stock market is dropping because corporate earnings are slowing. Corporate earnings are slowing because consumers are pulling back. Consumers are pulling back because they don't have enough jobs or adequate wages." (link)
According to reporting in the WSJ, Mr. Romney promised a new approach. He said he would hold federal spending to 20% of the economy, keep tax rates from rising even on the affluent, delegate more government responsibilities to the states and balance the federal budget.
"While we've lost a couple of years, we have not lost our way," Mr. Romney said. "We know we can bring this country back."
Federal spending now equals 24% of the nation's gross domestic product, due in part to the higher costs of Medicaid, unemployment insurance and a slowdown in income growth in the recession's aftermath that has reduced tax collections. Many liberal economists say 20% of GDP is an unfair target, as an aging population and rising Social Security and Medicare expenses necessitate greater spending.
"You can't look at the size of government in some past year and assume that's adequate going forward. There are demographic realities you can't wish away," said Jared Bernstein, who recently left the White House for the Center on Budget and Policy Priorities, a liberal think tank.