Posted By RichC on November 3, 2012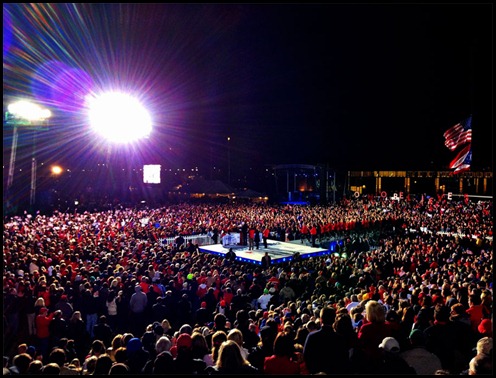 Presidential hopeful Mitt Romney and supporters gathered in West Chester, Ohio last night
(
my home town)
and warmed the large crowd of 30,000 on a cold night north of Cincinnati. He gave a critique of President Obama for the lack of leadership over the past 4 years, as well as for running a campaign that is dividing the country. The negativity from Obama is noticeable on the campaign trail and was highlighted by Mr. Romney who repeated the President's "vote for revenge" comment … suggesting American's instead "vote for love of country." Romney countered the President with a much more positive message and highlighted his success in business and governing with a focus on jobs and turning the economy around.
There has never been a wider divide in political philosophies. Obama supports bigger government with more regulation and higher taxes, Romney prefers working with business and welcoming success believing lower taxes will stimulate growth and confidence in America. Four years ago an unknown junior senator promised "hope and change" to an electorate looking for an optimistic vision for America … we are now deeper in debt, have a smaller workforce, stagnant economy and are more divided than ever. It is time to vote for a proven leader, even if Mitt Romney doesn't seem as "cool" as the guy campaigning around the country on Air Force One being surrounded by the celebrities. Vote on Tuesday … vote for Mitt Romney and Paul Ryan.
Mitt Romney used a star-studded rally Friday night in West Chester, Ohio, to launch his final push before Election Day. The event featured nearly every one of the Republican presidential candidate's top surrogates in an attempt to rally support in the crucial battleground state.

Although Romney deviated little from the "closing argument" speech he debuted earlier in the day, the event was intended as a symbolic gesture to supporters in Ohio, the pivotal battleground both campaigns acknowledge will likely decide next week's presidential election.

"We're going to make sure this is the place we take and we're going to take back the White House," Romney said. "It's good to be in Ohio and in [Speaker] John Boehner's hometown. This is the state we have to win."

It's exceedingly crucial for Romney to gain ground in the Buckeye State, where polls have shown President Obama with a small but steady lead. Without Ohio's 18 electoral votes, Romney's chances of securing the 270 electors necessary to win the White House become increasingly unlikely. Friday night was a show of force in the state, bringing in both top politicians and a huge number of supporters who crowded around the stage in red, white and blue Romney t-shirts arranged into American and Ohio flags.

In addition to Boehner and running mate Paul Ryan, Romney was preceded by an all-star cast of top Republican politicians, including Sen. Rob Portman (R-Ohio), Sen. Marco Rubio (R-Fla.), Sen. John McCain (R-Ariz.), Sen. Kelly Ayotte (R-N.H.), Virginia Gov. Bob McDonnell, and Louisiana Gov. Bobby Jindal. The Republican presidential nominee said the group would fan out across the country over the election's final three days in an attempt to rally swing state voters.

"They've gathered here tonight because they're about to fan out across the entire nation to make sure we have victory on Nov. 6," Romney said. "And some comic in the team has named us the Romney Ryan Real Recovery Road Rally — 'R6' for short. You're going to see them going across the country."

Romney's supporters emphasized the importance of winning Ohio in their remarks, with Ryan calling the state "the lynchpin" to the election and speakers like McDonnell and Rubio promising to secure wins in their swing states as long as the voters of Ohio were able to do the same.

And Boehner, speaking from his home district, gave a fiery endorsement of the Republican presidential ticket.

"Can we afford four more years like that?" Boehner asked of the president's first term. "Hell no we can't!"

Romney, who echoed the confident and passionate tone he channeled as his well-regarded speech Friday morning in Wisconsin, also sprinkled in some new lines, taking note of President Obama's comment Friday that "voting is the best revenge."

"Did you see what President Obama said today? He asked his supporters to vote for revenge, for revenge," Romney said. "Instead, I ask the American people to vote for love of country."

He went on to ask voters to "walk with me together" on Election Day.

"On Nov. 6, we come together for a better future. On Nov. 7 we'll get to work," Romney said.

While Romney struck a mostly centrist and bipartisan tone, many of the speakers early in the rally looked to provide red meat for the fiercely partisan crowd.

Multiple speakers sounded off on the Obama administration's handling of the attack on the U.S. Consulate in Benghazi, Libya, — a point that has disappeared in recent weeks from Romney's own stump speech.

"People are sick and tired of a commander in chief that does not lead," said Sen. McCain. "It has allowed a debacle in Benghazi where four Americans lost their lives and they did not have to. That was a terrible period in Benghazi. The president was AWOL."

The Obama campaign seized on that element on the program in a statement they issued blasting the address.

"Anyone looking for a positive, forward-looking vision at Mitt Romney's Ohio event tonight was surely disappointed," said Obama spokeswoman Lis Smith.

"Speaker after speaker offered angry, hyper partisan, and widely-debunked attacks that—at times—veered into conspiracy theory territory. It's a fitting end to Mitt Romney's campaign, since he has kowtowed to the far-right wing of the Republican Party throughout the six years he's been running for President, leaving little doubt that he'd rubberstamp the Tea Party agenda in the White House."

But the hope for Republicans was that the fervent supporters would fan out and help quickly flip voters into the Romney column before Election Day. After his rally Friday night, the Republican nominee will face a breakneck final campaign push, including stops Saturday in Iowa, New Hampshire and Colorado.