Posted By RichC on November 2, 2012

I found an excuse to use the Apple iOS Passbook app on the iPhone 5 yesterday while adding tickets to a Romney Ryan Real Recovery Road Rally

being held tonight just north of Cincinnati in my hometown of West Chester Ohio.
The ticket distribution site EventBrite makes easy checkout and automatically adds the QR coded ticket to Passbook. Hopefully this will be easier than the attempt I made with the airport ticket scanner on my Palm Pre a few months ago?

I was going to head over to the local Romney/Ryan victory rally after having dinner with a client-friend, but with Kid Rock and the long slate of GOPers a few miles from my house — I wonder if I should forgo my 5:30 PM dinner so I can park somewhere? I recall that the last couple of big rallies were a logistical nightmare (10,000 for Palin2008 and 50,000 for Bush2004 at VOA).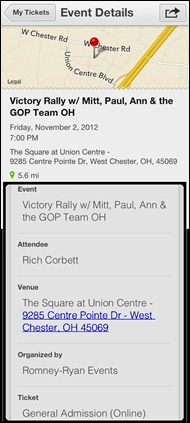 Mitt and Ann Romney
Paul and Janna Ryan
Tagg and Jen Romney
Matt and Laurie Romney
Josh Romney
Ben Romney
Craig and Mary Romney
John and Cindy McCain
Condoleeza Rice
John Kasich (Gov. OH)
Bobby Jindal (Gov. LA)
Sam Brownback (Gov. KS)
Rick Perry (Gov. TX)
Marco Rubio (Sen. FL)
Rob Portman (Sen. OH)
Kelly Ayotte (Sen. NH)
John Thune (Sen. SD)
Lindsey Graham (Sen. SC)
Norm Coleman (Fmr. Sen. MN)
Rudy Giuliani (Fmr. Mayor NYC)
Tom Ridge (Fmr. Gov. PA)
Reince Priebus (RNC Chairman)
Jason Chaffetz (Rep. Utah)
Artur Davis (Fmr. Rep AL)
Jack Nicklaus (Professional Golfer)
Derek Parra (Olympic Champion – Speed Skating)
Scott Hamilton (Olympic Champion – Figure Skating)