Posted By RichC on April 17, 2014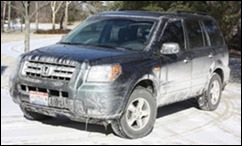 I've been plagued off and on over the past few years with a check engine light that the computers say indicates cylinder misfiring. It seems to come and go, to the point I begin to ignore it until someone points it out again.
A few years ago, I suspected that I might have had a batch of bad fuel since it seemed to go off after a second or third tank. Then a couple years ago I had my buddy Tim at Mr. Godwrench replace the plugs and wires (not like the old days … or a diesel – grin!) thinking having so many miles on the original could be part of the problem. BUT … it appeared and disappeared off and on again.
Then it hit me after watching Motorweek's Pat Goss discussing cleaning out the throttle body, injections components and build-up on pistons and cylinders, that it might be the fuel.
Since Shell Oil  loyalist, my wife Brenda, was in the car on a recent 2200 mile drive, we ran almost entirely Shell's Nitrogen-enriched gasoline — PDF. Unlike my better half, I tend to shop for the cheapest regular unleaded that I can find … Brenda on the other hand will only burn Shell gasoline. Interestingly, the light came on after running another brand of fuel and now has been off since I've only filled with Shell. Maybe there is something to the quality of fuel being sold by different companies or the "cleaning and protective barrier" claims advertised by Shell? My situation has me once again rethinking my position on what I suspect is just a snake oil  additive business.
WHY SHOULD YOU USE SHELL NITROGEN ENRICHED GASOLINE?

It is the only gasoline that contains the patented and exclusive Shell Nitrogen Enriched Cleaning System
Extensively tested for more than half-million miles in various engines and vehicles
Actively cleans performance-robbing gunk from intake values and fuel injectors
Acts like a protective barrier to shield fuel injectors and intake valves against future gunk build up
Exceeds the stringent requirements of the world's top automakers –  Audi, BMW, General Motors, Honda, Toyota and Volkswagen – and is certified as a TOP TIER Detergent Gasoline
No other gasoline protects better!

 

HOW DOES THE SHELL NITROGEN ENRICHED CLEANING SYSTEM WORK?

The Shell Nitrogen Enriched Cleaning System uses a patented molecule, which cleans and protects intake valves and fuel injectors. Enriching the molecule with nitrogen makes it more thermally stable and therefore more effective in tough engine conditions with higher temperatures and increased pressures. This is particularly important in modern fuel-efficient engines to prevent the breakdown of cleaning agents.

The Nitrogen Enriched Cleaning System gives all three grades of Shell gasoline the ability to clean up gunk on intake valves and fuel injectors. Industry data indicate and car manufacturers recognize that a clean engine is more fuel-efficient, produces fewer emissions and allows vehicles to perform at their best.