Posted By RichC on September 5, 2014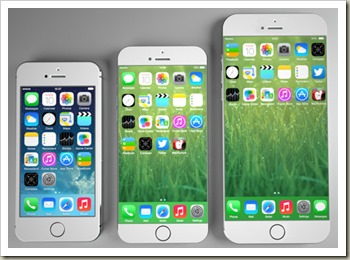 Apple's CEO Tim Cook had a rough week on Wall Street as investors seemed a bit nervous ahead of next week's "product offensive." The tech giant will announce their updated iPhone 6 which will at minimum have a larger screen (rumored photo right). Secretly I'm more interested in what the operation software might bring to make "all" mobile devices more useable. MacRumors also hints at a new iPad Air that could be coming (probably later in the fall) that will be thinner and offer the fingerprint reader (security and purchases).
Another missing and much rumored gadget is a wearable device. Analysts anticipate the iWatch in a usable form, but it is hard to tell. Most want a small, lightweight devices with extended battery life that interfaces with iDevices. I'm not sure how "productive" an iWatch would be, but then we've all purchased fashion accessories that serve little purpose for far more money.


  
Probably the biggest unknown is whether Apple will introduce a secure mobile payment system utilizing their iPhone … that would be a big deal.
MarketWatch has been watching and reporting as well … and Apple's competitors are not taking the 9/9/2014 product release resting on their laurels.
The company is facing stiffer competition from the likes of Samsung and Google in a fast-evolving mobile market. Cook has responded by taking a more combative and aggressive posture. At Apple's developer conference, he poked fun at Google (GOOG), whose Android operating system is dominant in the mobile world.

"More than 130 million customers who bought an iOS device in last year bought their first Apple device," Cook said. "Many of them were switchers from Android. They bought an Android phone by mistake. And then sought a better life."

Bajarin, a veteran Silicon Valley analyst and Apple-watcher, noted the change, saying that while Cook had once been "rigid and mechanical," he has slowly become "more relaxed, more confident."
"I do believe that he has found his voice," he told MarketWatch. "He has transformed from a nuts and bolts operations guy to a true CEO figure."