Posted By RichC on March 27, 2015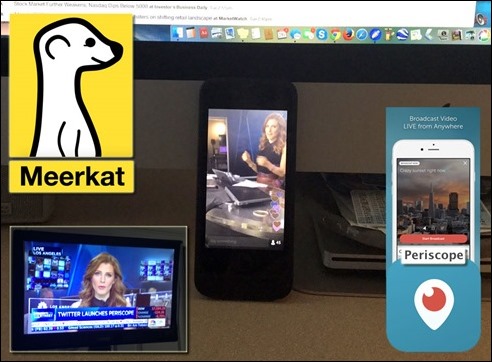 I wasted a couple hours on Thursday morning while "working" (cough, cough) from home and downloaded the Periscope app for iOS on the iPhone.  To the novice "tech geek," these live broadcasting social networking apps will soon have the Internet filled with video streams. Currently I'm seeing broadcasters like CBNC's Julia Boorstin (above) jumping on the bandwagon and testing things out on the air. But as apps like Meercat (live video on Twitter) and Twitter's Periscope take off, I'm beginning to wonder how culpable the "network" becomes. I'm thinking about underage children broadcasting live video using the conduits connected to Twitter, Facebook, etc as well as other crimes or terror publicity clips?
Streaming live video isn't new, considering ustream.tv has been livestreaming for years, but connecting with an audience using a cellphone the size of Twitter's and Facebook's is taking it the next level. So far it makes live broadcasting of "breaking news" by everyone with a cellphone a reality. It will be interesting to see just what grows from having the ability to connect instantly with a social networking audience and have a decent quality live video (and audio) feed pumped in realtime throughout the world.
Now to fine time to watch more Internet video???
EDIT: Watch Bruce Van Horn walk around his lake over his lunchbreak on his iPhone and earbuds … very nice. I sent a few messages to him as he responded back audibly while walking. Wind noise and image quality of a moving iPhone does degrade quality so including image as an example. Still very cool.