Posted By RichC on May 28, 2015
It looks as if Twitter is getting a head start in taking social media into the publishing realm by going after Flipbook. Facebook is working deals with news organizations and consolidating into users streams, but $TWTR has decided to buy their way into the publishing business – undisclosed price but some speculate it is close to a billion dollar deal. As a shareholder I think acquiring the online publishers is a good thing … but it is a very steep price.

As a user of both of these social networks, I prefer Twitter for news a stream of feeds … with a few highlighted photos and video. The current trend of including canned graphics is getting pretty frustrating and I regularly "unfollow" after mentioning this is a private message (too much clutter). I like Facebook for personal groups, friends and family and really don't want to see more news or advertising filling up a stream … and I'm probably not the only one?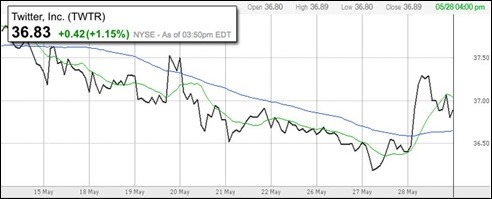 Zacks Research had a quick write-up about Twitter buying Flipbook … here's the gist:
Does It Make Sense for Twitter to Buy Flipboard?

The low operating cost and free content are attractive for investment. However, the business model of organizing floating content over web and packaging it into pages with advertising is not unique. Given the fact that Twitter is gearing up in digital advertising front against giants like Yahoo! YHOO and Google, which are heavily into news content, it remains imperative that the company invests in those startups that offer such opportunity. 

Further, with the prospective Flipboard acquisition, this Zacks Rank #3 (Hold) company is likely to have a competitive advantage over Facebook FB, which is also entering the online publishing business. Facebook recently launched Instant Articles to allow The New York Times Company and other media companies to publish their stories directly on its platform (read more: Facebook Partners Media Houses, Launches Instant Articles). In addition, it acquired Tugboat Yards, an online media startup that offers tools for small and medium-sized web publishers to accept payments from readers (read more: Facebook to Grow in Online Publishing with Tugboat Yard).

Going forward, in the media business, where content is king, it is unclear how online ventures like Flipboard that thrive solely on free content can succeed. However, given the current boom in the online social media and rapid emergence of companies that act as online interfaces, we believe Flipboard and other such enterprises are here to stay as long as a symbiotic relationship exists between content publishers, users and advertisers.

Hence, we believe Twitter's current strategy to branch out and foray into the online media business is likely to have a head start with Flipboard and can offer long-term prospects given the rising demand for online publishing business.