Posted By RichC on July 24, 2015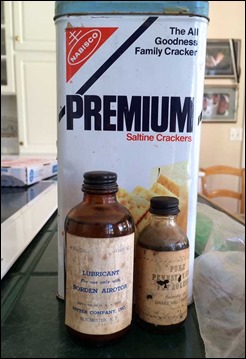 Brenda and her sister Chris spent last weekend together at the family Farmhouse in western New York. They sorted through what was left from their mom and dad's lifetime of "stuff" separating into garage sale, trash pick-up, donations and items they might still want. The later "group" grew far too large, in my opinion.  Some things were easy to sell while others were memories. I know for Brenda it was tough to finally give up on her father's original model C Ritter dental chair. For the right person, it was a "man-cave" item (video below); for others who were interested, it may have been a prize collectable (they are listed on eBay for a pretty penny). BUT … they are heavy and full of oil … yes, she wanted me to bring it back to Cincinnati. No thank you. 



We still ended up with a variety of old stuff. The instrument lubricants in old bottles, plaster molds, a "Fort Knox" grinding "gold" (???) dust box – family joke. Dad Howard did much of his own lab work particularly in the early years (a skill not practiced by most new dentists). The good news is that the farmhouse is ready to hand over to a new owner … and they are a couple who will appreciate a restored home build well over 100 years ago (180 years if my mother-in-law remembers correctly).