Posted By RichC on February 2, 2016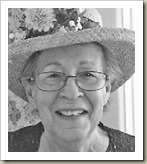 It has been a challenging few years for the "greatest generation" in my family as age and death is catching up with us. My brother Ron called this past weekend to let me know that my Aunt Fran (my dad's brother's wife) passed away on Saturday. My sympathy goes out to my cousins and my Uncle Sonny. May the "peace of God, which transcends all understanding, guard your heart" and ease the pain until you are united again.
Francine M. Corbett, 82, of Hudson, Michigan passed on unexpectedly to be with her savior on January 30, 2016. She was born on October 10, 1933, in Toledo, Ohio the daughter of Paul and Zoe (McClure) Sharrock. She married the love of her life, Earl Corbett, on December 8, 1952, in Toledo, Ohio.
Francine graduated from Libbey High School Class of 1951. She was a member of Christian Life Center in Addison, Michigan and was a devout Christian who acted as her family's spiritual compass and her compassion and faith lead her to volunteer for numerous charities. She was immensely creative and had a lifelong passion for painting and crafting. Next to her devotion to God, she loved her family fiercely and enjoyed many wonderful adventures with them, most memorably at Posey Lake and in Hesperia. She will be lovingly remembered for her sassy personality and dedication to her University of Michigan Wolverines. She was a loving wife, mother, granny and GG and will be dearly missed by her family and friends.
Francine was preceded in death by her parents, and oldest son, Michael Corbett. She is survived by her loving husband, Earl; 2 children, Candace Foley and Marc (Kati) Corbett; one brother, Darrel (Beverly) Sharrock; one sister, Paula (Dusty) Richardson; daughter-in-law, Janice Corbett; grandchildren, Joel (Katie) Corbett, Stephanie (Justin) Butler, Meagan Foley, Kyla (Mark) Gorey, and Shayna Corbett; as well as seven great-grandchildren and several nieces and nephews.

A Celebration of Francine's Life will be held on Saturday, February 6, 2016, from 1 – 4 p.m. at the Hudson American Legion (16113 Cadmus Rd., Hudson, MI 49247).

Those planning an expression of sympathy may make memorial contributions to Hospice of Lenawee County.
"Until we meet again – may God hold you in the palm of His hand."
As published in The Toledo Blade