Posted By RichC on June 26, 2016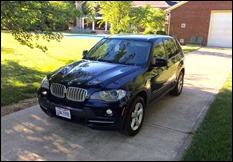 It has been a much longer process to get our BMW X5 35d back to road worthy than I initially thought. When I bought the used diesel SUV last year, I knew there were a few things I needed to repair, as well as a few items I wanted to tweak. After tinking on our previous Volkswagen TDI diesels (1 & 2), I knew what could be done to enhance this diesel's performance. Several months and nearly $4000 in upgrades later (including a $$$ BMW service call), I'm feeling like it is finally a decent SUV.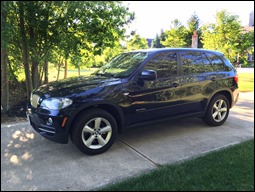 One of my recent updates was the addition of a dark window tint (click for larger), something I've added to almost all my recent vehicles over the last 20 years … likely due to using my vehicles as mobile offices while in sales. I prefer the cooler interior in summer and ease on the eyes when the sun is bright, although I don't mind the look either.
There are still a few plastic molding parts under the hood to search for as well as a spot or two of rust to repair underneath before I bolt the skidplates back on, but for the most part it is drivable … except for this nagging "high temperature" code that keeps showing up on my Carly for BMW app? (click) I'll keep plugging away at it. Although the X5  has added a few pounds with the new hitch, it has shed quite a few overall — that's a lot of parts!