Posted By RichC on August 31, 2017
As the title and Robert Burns suggest, "the best laid plans of mice and men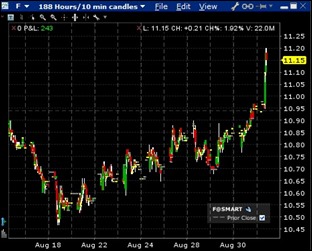 often go awry." Here are a couple Thursday lunchtime updates.
On the upside, the Ford ($F) trades from a week ago continue to pan out and I exited half of my position on Thursday morning to book profits (for those following trades I sold at $11.20). I'm holding half since I still think sales of new trucks and cars due to Hurricane Harvey heavily impacting Texas and Louisiana area (insurance claims) could prop up auto sales — Texas is truck country and this might favor Ford?
On the downside, my morning took a turn for the worse as the issue with previous Encore boat bottom repair in early 2013 with Whiticar Boat Works in Florida. After the paint rep inspected Encore's bottom, he believes the repairs

were made "according to the manufacture's recommended procedures" and they will "offer no assistance with the project as inspected." I'm hoping an appealing to Jim Dragseth, President of Whiticar, for a second look since the repair was done by his reputable company and exactly as recommended by management … in order prevent the exact problem I'm having again 4 years later. For those who have gone the peel and epoxy barrier approach, you know the kind of cost we are talking about $$$. Fiberglass boat owners should not have to deal with the same thing again in such a short time … and a few outside contractors who often subcontract for Whiticar voiced their opinion as well – "a step was missing and the epoxy paints did not adhere properly."
Hopefully a company in business since the late 1940s like Whiticar Boat Works will stand behind their work or an minimum not completely wipe their hands and walk away. My insurance rep believes Whiticar will make good on their work … we shall see (there is always the legal option, as ugly and painful as that seems … or worse yet, sharing my "boat woes" with my wife — "sell it!")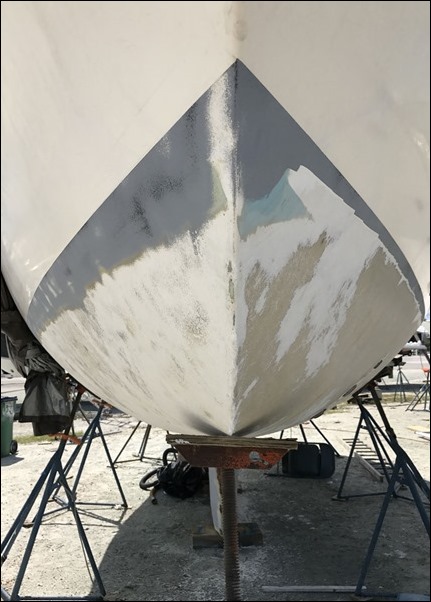 Encore – half blasted and half peeled drying out on Aug 16, 2017.