Posted By RichC on August 4, 2017
It has been a slow process and a while in coming, but the beveled glass and shelves finally came in last week in order to finish the kitchen cabinets. These items are part of the "improved"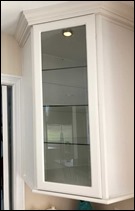 corner cabinet for Brenda. She wanted a more attractive beveled glass door (larger window) and glass shelves so that the top light shines down on the china … a display cabinet for some of her glassware.
I used the existing stiles and rails and narrowed them as much as possible in order to hold the fairly heavy beveled glass. It was more challenging than I expected. I cut and routed the inside edge on the router table and fit the glass into rabbet.  Sherwin Williams was able to match the paint and sheen of the white cabinets and a little bit white duct tape covered the black wiring and some caulking finished the "light leaks." All in all I'm happy with the final project (Brenda was a little critical as to the bevel not being as visible as she wanted – oh well, that's not my doing).