Posted By RichC on November 9, 2017
So this looks like a nondescript photo of an older brick building (click for larger photo)… which it WAS, before being turned into Armstrong Student Center. Back in 1981-82, I was a replacement instructor at Miami University in the college town of Oxford, Ohio for a professor on sabbatical.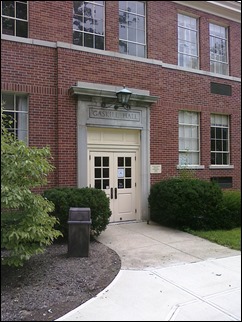 I moved into his office in Gaskill Hall and taught his undergraduate classes.
So back when we were visiting our son Taylor and walking around campus back in 2009, I shared my stories and took a photo when we walked by. Shortly after, the this photo the building was under a huge renovation (a link to the history). I'm glad to have at least one last picture. Good memories.
The one of the two labs I was in charge of had a full photography darkroom (the other was a printing lab – interestingly a business I would eventually start), so on a visit from my fiancé (Brenda) in the fall … we took photos and processed them, some of which I've posted before. The other highlight from that weekend was a date-night movie Brenda and I had with Harrison Ford as Indiana Jones: Raiders of the Lost Ark.
Besides barely making enough money to pay rent and survive, the free graduate school tuition was a great perk and allowed me to earn my Master's degree while I was there. Unfortunately I was really too distracted to really enjoy the opportunity teaching and living in a college town afforded since my mind was elsewhere busy planning a wedding, finding a house and starting the first of many routine drives to and from southwestern Ohio to northeastern Ohio.
One last memory of Oxford is one that I share with my son, although our incidents were 30 years apart – mine in 1982 and less severe. I was hit with a tire-iron at night in the parking lot after surprising someone trying to break into a car behind Gaskill Hall (the parking lot below) … and my son was assaulted when he was at Miami in 2012.