Posted By RichC on June 6, 2018

Once in a while we all end up squabbling with a company over their product or service. Neither Brenda or I have ever been advocates for "frozen meat" or ordering the generally higher priced national brands that require significant cost to package and ship a product … but earlier this spring we took advantage of a frequent flyer mile bonus associated with Omaha Steaks. They delivered their perfectly boxed on dry ice steaks and food that was "shocking delicious " within a couple days. We were so pleased that we've ordered several more times and even started to tell others about just how pleased we were with their product.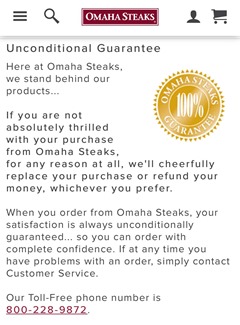 Unfortunately, a May 2018 order did not go as planned and "for some reason" was not delivered on time to our house. By the time Brenda opened the foam box, the dry ice was gone, the boxes were all at room temperature and neither of us wanted to risk eating what was obviously fresh but no longer frozen.
I called Omaha Steaks customer service's 800 number and was told not to eat the product but that their records indicated that delivery snafu was not their problem and that I should place another order — no credit, no discount … nothing. (even suggesting that "we can only guarantee a successful delivery when provided with the correct address." FYI … they have delivered several times and our address was correct.)  Hm, not what one would expect from a mail order company in business since 1917 … or perhaps a little to comfortable with their successful business?
Sorely disappointed and out $100 or the "relatively expensive steak we were hoping to grill"  … I "politely" commented to @OmahaSteaks on Twitter. Within a couple days, they apologized for "any inconvenience" blah, blah, blah and "will be more than happy to offer a $60 Gift Card" for a future purchase." At least now we are getting somewhere I thought, but that's not really satisfactory in my eyes?
So, I direct messaged back that their "Unconditional Guaranteed" which clearly indicated that "if you are not absolutely thrilled with your purchase .. for any reason at all, we'll cheerfully replace your purchase or refund your money, whichever you prefer." A thank you reply from OmahaSteaks Twitter agent later, and I was indicated my $99.98 should be refunded to my credit card. So at least in the end, Omaha Steaks honored their "Unconditional Guarantee" … but sadly it required a little more effort on my part after they offended a previously very happy repeat customer.
Lesson to others … IF you want to keep repeat customers and intend to eventually replace or refund, do it cheerfully on that first contact. (stay tuned for my next gripe … IKEA's slow refund after a shipping mistake.)