Posted By RichC on August 15, 2018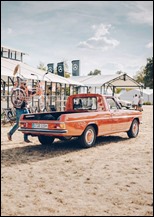 As much as I enjoy working on, owning and driving my inexpensive W123  diesel 300D project car (swapped junk for it in May of 2013), I'd love to have a Mercedes Benz diesel of the same 1970s-80s era with a little more collectability? I spotted a couple cool MBs this week, although I am not really looking.
First is the "unknown" to most in the U.S. and is called the "LaPickup" – it was product between 1972 and 1976 in South America. They were built in Argentina for the "local market" and based on the W115 sedan (68-76). According to a New Zealand automotive "Stuff" article, the "Ute" as it was was known, was a 220D and called "LaPickup." It was Mercedes answer to General Motor's El Camino and Ford's Ranchero and was perfect for the heavily agricultural based Argentinian economy.
Second is one that is actually coming up for sale on September 1st … and isn't too far away at the Worldwide Auctioneers event in Auburn, Indiana … hm? The downside is that it will probably generate a premium just because it was the last car purchased by the late John Lennon of Beatles fame.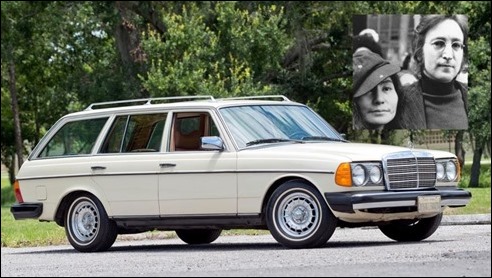 John Lennon's last car was a first.

By late 1978, the singer had settled into a relatively low-profile, post-Beatlemania life with his family in New York City and was riding around in a green 1972 Chrysler Town and Country station wagon that had seen better days.

According to the History Channel's "Lost and Found" show, Lennon's chauffer suggested that it was time to buy a new car and Lennon and Yoko decided on a diesel Mercedes-Benz 300 TD Wagon. The problem was that it hadn't yet been released in the United States.

That never stopped a rock star, of course, even one spending a lot of time as a peace activist. So Lennon had his assistant send Mercedes-Benz a check for $30,000, which is the equivalent of $90,000 today, and the automaker fast-tracked one across the Atlantic for him.

Lennon's would be the first of the cars delivered, and the last he ever purchased. It was reportedly parked in the garage of his apartment building when he was shot by Mark David Chapman on December 8, 1980.

The car stayed in the family until it was sold in 1986 and has changed hands several times since. It may soon again as it is scheduled to cross the block at the Worldwide Auctioneers event in Auburn, Ind., on September 1, where it is being offered without reserve or a pre-sale estimate.

A normal 300 TD Wagon like it might be worth as much as $25,000, but with two claims to fame this one could be a double fantasy car for a Benz and Beatles fan.