Posted By RichC on May 19, 2019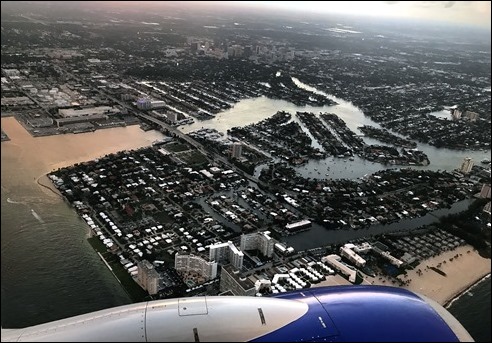 Working on remodeling projects away from home a few days at a time really seems to stretch a project out (photo – flying home from Fort Lauderdale FLL last night – I was checking out the FULL anchorage at Lake Sylvia from the plane). Thankfully both Brenda and I have always enjoyed the hands-on projects. From our early days, we have tackled projects be they updates to our first house in Aurora, Ohio, many projects in Hudson, Ohio and Liberty Township (Cincinnati) or even the remodeling of my Consolidated Printing and Publishing Co. commercial building in Cuyahoga Falls. One would think my skill level would be higher … but as with all projects, the guy planning knows where his planning and calculations needed to be tweaked and modified. No exceptions with this years master bathroom update (last years kitchen and guest bathroom were smoother … or perhaps that is just looking at it in hindsight?)
Updated the tiles and test fitting the vanities before closing up the wall and adding the beadboard backer. I was able to get the grouting finished before heading home.
Brenda went straight to work on her first attempt at re-upholstery … first the dinning room chairs and hopefully eventually the couch and loveseat cushions?
Finally … I'll archive a few photos of the "old" paint before the exterior is repainted. The painting project starts this week.