Posted By RichC on October 4, 2019
Last week, Amazon authorized my invitation and gave me a promo code for the Echo Auto Alexa device for the car (it was a long wait, but they did discount to $24.99 for invitation holders).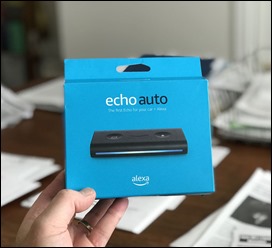 For the passed several months I've been using an Echo Input (no speaker) in my BMW X5 35d in an attempt to simulate the Echo Auto set-up (I picked one of those up for $14.95). It has worked surprisingly well, although the WiFi takes longer to connect than the bluetooth Auto version – both require a smartphone connection. 

As for ordering and installation, the new device arrived within a few days and I simply replaced the wired Echo Input with the EchoAuto. Initially I did try to connect the audio to the Avin Android based Nav PLUS display – really not all that great … and very difficult to keep multiple devices connected. So instead, I stuck with the AUX cord that I was using for the Input device. That aside, what I was surprised with, besides how quick it connected to my iPhone, was that it will hand-off what ever streaming audio that I'm listening to in the car to my After Shotz bluetooth headset when I turn off the car. Nice!

So far I haven't tried much more than the basics … questions, leaving Alexa messages and "dropping-in"," setting audio volume, controlling lights and home devices and streaming SiriusXM or Pandora … but will soon try it for navigation and phone calling (unsure if it dials and switches to my iPhone or using Amazon two-way communication?) So far I think Amazon has a winner … and expect they'll work a deal to build in their Echo devices in new cars.