Posted By RichC on November 17, 2019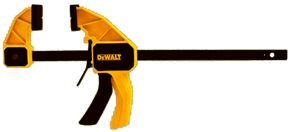 When it comes to clamping, I ascribe to the rule of thumb that you can never have too many clamps when woodworking. That said, I often don't have enough when I'm working on a project … and lately it has been even worse since a few of my tools are in Florida (Condo1718 projects).
Currently I'm working on a couple small projects that require frames to be clamped and glued and I've never been happy with my hodgepodge methods to square up and clamp frames,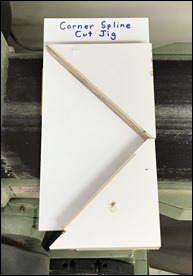 be they panels, doors or just simple frames. I decided that for the upcoming project I was going to spend a little time making a few clamp jigs that should be able to hold each corner with just one trigger clamp. I've always liked the hole saw method for squaring up and centering clamping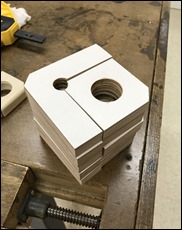 pressure so decided to use it on these jigs.
Also since I don't want to use any brads on the frames I'm making, I decided to add a small spline for alignment and added strength besides just the end to end grain gluing. So I'm making a small jig that attaches to my tendon cutting tool on my table saw to cut the spline slot.
Speaking of table saw jigs … here's on that I clip (screw) my micrometer on in order to cut perfectly sized strips for facing the edge of plywood, etc. If a 1/4" is what is needed, set the stop on the digital micrometer to .250 and move fence until the wider hardwood board edge comes in contact with the depth stop of the micrometer. After cutting, repeat by sliding over the fence until the board touches again. Works great … and would work even better with a really thin kerf 10# carbide tips blade!