Posted By RichC on May 19, 2020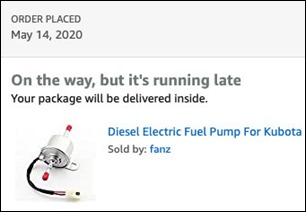 Sometimes ordering repair "parts" from Amazon is more critical than than others, like last week. On May 14th I ordered a electric fuel pump for our Kubota ZD326s zero-turn mower thinking it would arrive "as promised" by end of day Saturday. Then on Sunday I noticed that the "package was still on its way, but running late."
The new delivery "would have been" Sunday May 17th or Monday May 18th. Sure I was a bit irritated considering I was doing tractor maintenance over the weekend, but knew all delivery services were struggling to handle all the packages due to COVID19. Still, I felt Amazon could have communicated a little bit better.
Monday night rolls around and the next message is that it was still "On the way, but it's running late" (message top right). 
Tuesday (May 19th) … now Amazon's automated messaging system post something to the effect that "the package may be lost and you have the option to cancel the order for  a refund or continue waiting." Instead I connect using Amazon's chat online service which quickly offered to replace the order and continue waiting for the existing shipment (which I can return for credit).
I accept since I still need the fuel pump … BUT after ending the chat noticed the new delivery date is May 28th by 9pm … which is now over a week away. Good grief!