Posted By RichC on September 12, 2020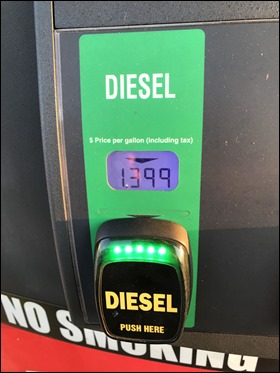 With a few miles of driving this week (nothing like my years of back and forth to NE Ohio) … I kept an eye out for anomalies in diesel fuel price. prices. It just so happened that Sidney and Wapakoneta prices were a bit lower than either Toledo or home in Cincinnati, so I planned my stop accordingly.
For diesel fuel users, it is a bit more challenging to find lower prices along Interstate 75, unless you can find diesel where trucks do not have access. I seems like most truck stops are 30-50 cents higher than the auto-only stations?
Anyway, with Brenda being a front line worker throughout the COVID19 pandemic (pharmacist at Kroger), she was awarded additional Kroger fuel points – Nice! So I opted to fill at the Sidney, Ohio Kroger with 70 cent per gallon discount … making it $1.39 when I filled 19 gallons in the BMW X5 35d. Also, logged a decent 23.2 mpg on this trip.