Posted By RichC on September 15, 2020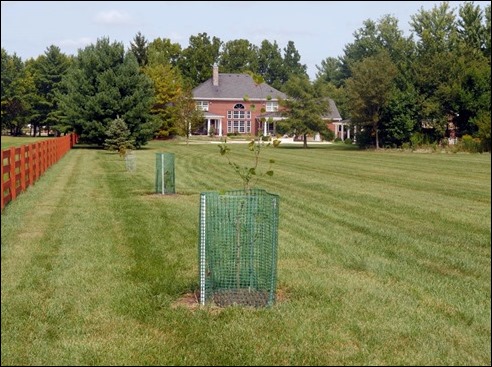 It has been eleven years since we last purchased a few trees from my brother Ron's retirement avocation – a nursery dedicated to NativeOhioPlants. He started planting trees years before so after he retired from the Air Force in 2018, it was a natural to make it a part time business. It's not too big or lucrative and doesn't stop him from traveling (like COVID19), but it is far better than watching TV and turning into grumpy old man (he's younger than me!) I don't think either of us will ever be bored.
Anyway, I check with him to see what he might have left that we could buy from him and he quickly packed up five trees and gave me a discount … commenting that "for a beer and lunch I'll help me plant them." DEAL!
It was a great excuse to spend the day together; it is good to stay connected, although we text message regularly. After planted a few trees, we walked, talked and had some lunch. All in all a good time and one that makes me appreciate my only brother.
As for the trees, we've added another small River Birch, Burr Oak, American Sweetgum and two more 6 foot Sycamores. While he was here, I had him help me plant a couple seedlings that I had potted earlier in the years.
After he left, I decided to "try" to protect them from the deer as we've lost countless trees to their grazing and buck-rub. This will be the first time I've tried plastic fencing … so we shall see if it works?
Also, while I was out archiving the new trees for posterity, I took a couple additional photos with my Lumix GX8 and my fixed 25mm Prime lens of the new swing set for my granddaughters … and of the work area in the back of the poolhouse garage (added a couple pavers to the workbench / storage box area next to the new English Ivy arbor).