Posted By RichC on December 24, 2020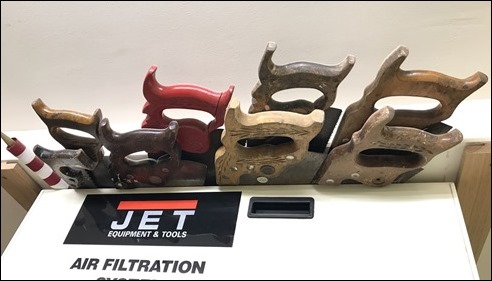 Since I expect to be busy with our family on Christmas Eve Day, I'll prepare a post for Throwback Thursday #TBT with a few old handsaws from my families past and asked the rhetorical question to myself: "Why do you keep old handsaws that you never use?"
Actually I don't recall really needing to use a handsaw for quite a few years … besides the bow saw (not pictured) that I've used to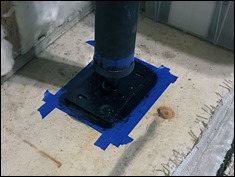 trim a tree or two. Are these relics worth saving for history sake? A couple were mine and a couple were DadC's and DadH's (probably their fathers?). Speaking of saws, one of the best purchases I've made in hand tools has been the Japanese dovetail saw. It is razor sharp and cuts a thin kerf – so much better than my miter or backsaws.
On an entirely different topic, I was distracted from reorganizing our basement storage room when restacking the empty Christmas decoration boxes in seeing the excessive amount of rust appearing on the bottom plate of the basement Jack Post where it is against the cement floor. I doubt it will ever be a structure weakness in my lifetime, but couldn't help but add a coat of Rustoleum paint before burying it behind boxes.
Thinking about junk we have kept from family and don't use or need, I tossed an old deck of playing cards belonging  to my Grandma and Grandpa Bluhm, but not before checking on their history … or at least the company Brown and Bigelow who made them. An interesting history … and use of Cassius Marcellus Coolidge "Dogs Playing Poker" artwork, which made me want to keep them (but I didn't!)
The company was founded in 1896 by Herbert Huse Bigelow and Hiram Brown.

On June 24, 1924, Bigelow was convicted for tax evasion, fined ten thousand dollars, and sentenced to three years in Leavenworth Penitentiary. He was released after eight months. While incarcerated, he befriended infamous safe-cracker Morris Rudensky.

On April 13, 1928, President Calvin Coolidge pardoned Bigelow. Following Bigelow's release, the company became notable for developing prototype convict rehabilitation programs through the hiring of hundreds of ex-convicts.