Posted By RichC on January 23, 2021

Once upon a time,

I was … or at least tried … to be frugal in most things. I've always shied away from buying higher priced brand names, when there were less expensive option. Coffee is a prime example … since I was perfectly happy with the Chock full o'Nuts brand of canned coffee since the 1980s (and have the coffee cans to prove it) until Katelyn and Drew spoiled and hooked me on Dunkin' Donuts Hazelnut coffee. I justified it by using a one-cup coffee maker instead of a pot (I even reused k-cups years ago).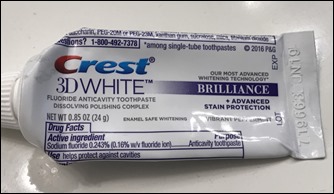 It was pretty much the same for 99 cents a tube Pepsodent until it became more difficult to find in the stores we shopped. No big deal since other brands seemed to have equally good toothpaste UNTIL they started playing around with the tube size. So instead of spinning our wheels, Brenda has just been buying whatever toothpaste is on sale.
Then came the marketing brilliance of Proctor and Gamble with a great new toothpaste that they must have tested on people just like me? They are giving dentists these trial tubes KNOWING I'm going to love their Crest 3D White Brilliance toothpaste. Now I'm hooked on the good stuff and am trying to convince Brenda to buy it … even thought it cost more than the other tubes.

I'll start with adding it to our list: "Alexa, add Crest 3D White Toothpaste to our shared grocery list."