Posted By RichC on February 27, 2021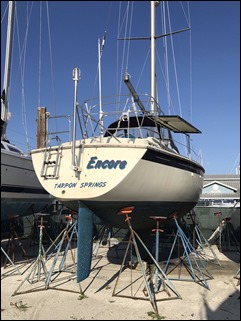 This past week was a semi-rushed haul out week for Encore in Florida. I headed south for 3 days of work on the "running hot" Volvo diesel auxiliary, as my assumption was that the heat exchanger was plugged up/calcified and needed to be taken off and cleaned (something I've never done). I met a friend who does diesel work down at the dock and previously ordered the assortment of gaskets AND a new thermostat.
The heat exchanger definitely needed to be replaced, but the real problem was the plugged elbow returning coolant to the overflow tank. After running it under load, the rubber gland stuffing box boot (Volvo dripless seal) starting leaking and would not stop. I added some grease using the McDonald's straw technique which helped the shaft drip, but the boot clamped to boat leak would not stop. In fact, might be getting worse???
So the correct decision was not to put off hauling out and instead see if I could get an emergency haul out. I could then move the boat to the non-work storage area to dry out and the later prepare for new bottom paint, zincs, a cutlass bearing (after inspection) and hopefully get the new Volvo stuffing box boot and correct grease ordered. There is never a dull moment.
So the new goal is to plan for a little out of water time, some TLC (buff and wax) and maybe entertain selling the boat before going back in the water? (a lot depends on how Brenda's back and eventual surgery can return her mobility to full heath … not to mention sailing safely and my concern over her limited arm/shoulder???)