Posted By RichC on January 30, 2022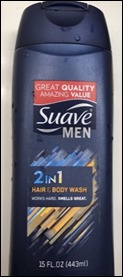 Since we will be focused on watching football and especially the Cincinnati Bengals this weekend, I'm pre-posting something

that frustrates me when going to the grocery or drugstore.
I know the inexpensive "brand" of shampoo that I like, but Suave for Men makes so many different blends, bottle sizes and labels that I can never remember or find  my favorite. So, I'm archiving the empty bottle to see if I can find it at the store. Walgreens has recently failed me (bought the wrong one) and I have way too much of the "3-in-1" with the conditioner from a previous purchase … but could not find the Suave 2-in-1 "Hair and Body Wash" that I bought the last time. Have they discontinued it?
It is very frustrating.