Posted By RichC on November 25, 2022
Part of what was in my long awaited Magfast order arrived earlier this month and after charging the MAGFAST battery packs, I started to test the output plugs.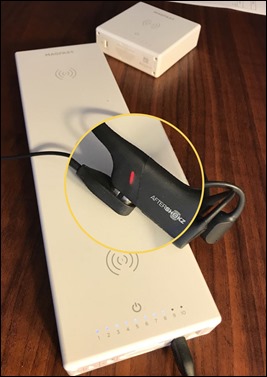 The USB-C worked just fine on my Kindle reader. The Lightning plug worked to charge my iPhone 7 and iPad. The Micro-USB worked (I think) and the USB-A output plugs  charged devices like my Fitbit Versa 2 watch using the special cradle, although very slow.
The one device that doesn't seem to take a charge is my Aftershokz Aeropex headset. On the Life, the USB-A out is on the top and starts to charge then turn off after about 30 seconds … using the proprietary cable with magnetic attachment. The bigger MAGFAST Extreme has a couple of USB-A plugs on the bottom and they seem to work, but after hours of remaining plugged in, the condition indicated displayed 8 of 10 LEDs indicating a discharge, but the Aeropex remained uncharged fully with a still red LED (photo). I've written the company and they are looking into it.
It might be a sensing circuit that shuts down when the discharge is small … that is my thought anyway?