Posted By RichC on June 29, 2010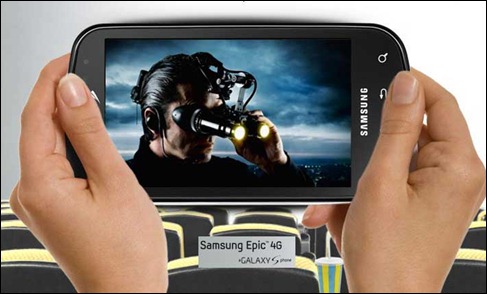 Sprint announced the second 4G capable phone to be marketed in their offerings and at first glance I thought, "it can't really be that big?" From their webpage, the image doesn't necessarily look as if it fits "in the palm of your hand." It will be interesting to look at it in person.
I'll also be anxious to see how the Samsung tweaked Android 2.1 OS runs on the 1GHz Cortex A8 Hummingbird Application Processor since it will be the first physical keyboard 4G phone. With a large 4" AMOLED touchscreen display and a dual camera set-up offering a 5 MP camera/camcorder with 3x zoom with it should venture into the HD camcorder world as well as offer video chat. With its focus on multimedia and 4G speeds, it might make for decent portable streaming and archived video if the 1500 mAh battery can hold up. From the marketing perception, it looks like it could fill a slot somewhere between a small pocket smartphone (ie. Palm Pre/Pixi) and an Apple iPad, netbook or eventual tablet; can it make and receive phone calls?
🙂
Sprint (NYSE: S) and Samsung Telecommunications America (Samsung Mobile), the No. 1 mobile phone provider in the U.S.1, today introduced the second 4G-capable handset from Sprint, Samsung Epic™ 4G, a Galaxy S™ smartphone and Samsung Mobile's first 4G Android™-powered device.

"Sprint takes another leap forward today, announcing its second 4G-capable smartphone," said Steve Elfman, president, Network Operations and Wholesale. "Samsung Epic 4G joins a portfolio of powerful devices offering an unprecedented simplicity and value to our customers as the only national carrier with a 4G network and devices and applications that can leverage the increased data speeds to provide a high-def entertainment and business experience in the palm of your hand."
"Samsung Epic 4G is a powerful member of our Galaxy S smartphone portfolio which offers premium screen, speed and content features," said Omar Khan, chief strategy officer for Samsung Mobile. "The Epic 4G ups the ante with a front-facing camera for video conferencing, a full QWERTY keyboard and lightning-fast 4G speeds."

Samsung Epic 4G is part of a new breed of Samsung smartphones offering their very best in screen, speed and content quality for a premium user experience, and offers a fully integrated multimedia, messaging and social networking experience. It also features an exceptionally thin smartphone design with a slide out, full QWERTY keyboard and 4-inch Super AMOLED touchscreen display.

The brilliant Super AMOLED touchscreen display offers:

The best representation of color on a mobile phone that matches original content, more than 100 times the contrast quality of other leading displays
Faster response time that reduces "ghosting" images
Wide viewing angles to prevent blurring or distortion
Thinner design to offer more accurate and responsiveness to touch