Posted By RichC on June 3, 2011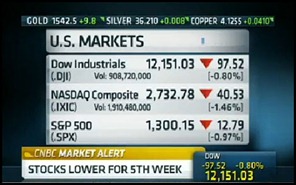 The Dow Jones Industrial average continued its slide back towards 12,000 and most other indices followed suit. Unfortunately the stream of negative news relating to the economy has been pressuring buyers to either remain on the sidelines or sell shares in all but a few hot IPO offerings. From companies slow to hire new workers, continuing housing declines and unemployment still above 9% … all sign points to a lackluster recovery (and that's being optimistic). At worst, we could be facing another recession (a 'double-dip') or even a possibility of the "D" word which mean we could be challenging decade of the 1930s when it comes to tough times. This is not the way to go into a weekend or into a summer.


Here's an interesting graphic (click for larger) which paints the unemployment picture and recessions … I certainly remember the early 1980s, but in some ways it didn't seem as difficult since as new college graduates we knew how to live on a shoestring.