Posted By RichC on August 19, 2011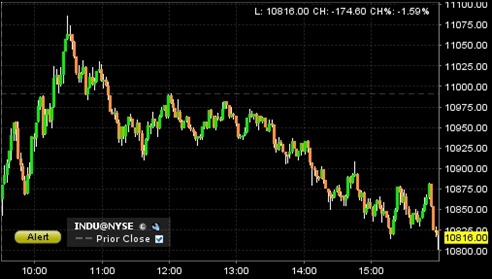 The Dow closes at the low of the day noting that few want to stay long for the weekend. Moving the market down was the misguided management at HP after their announcement yesterday (traded down 20% today and yanking the DJIA with it). Hard to believe an iconic American company with such deep pockets and the ability to finance about any project they want could continue to screw up so bad (over and over).
The Dow Jones Industrial Average fell 172.63 points, or 1.6%, to 10817.95. The index swung nearly 250 points from its session highs to lows in a volatile session. The zigzag action comes after the blue-chip index tumbled 419.63 points on Thursday, putting it on track for a losing week and its worst month in more than two years.

Hewlett-Packard was by far the Dow's biggest decliner, tumbling $5.91, or 20%, to a six-year low of $23.60 as investors fretted about the world's largest personal-computer maker's extensive plans to reshape its business model. The company is exploring a spinoff of its PC business and will abandon efforts to sell tablets and smartphones, a seemingly sharp reversal from management's previous comments. It also agreed to buy U.K software firm Autonomy for about $10.25 billion in a bid to move further into data analytics.
Here's a questionable video … but if you are an HPQ share holder or HP/Palm product buyer then the chuckle may be needed (thanks for the link Scott).