Posted By RichC on November 17, 2011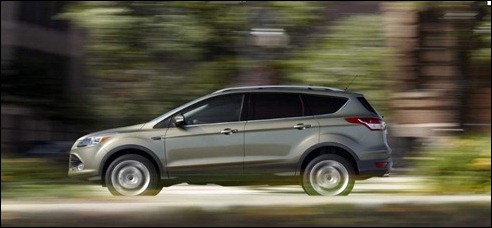 It looks like the boxy designs are nearly gone from most of the domestic and Asian automotive companies in favor of the lighter and more car-like CUV. Scott Burgess shared a little info on Ford's new 2013 Escape from the LA Auto show.
The Escape has lost the truck-ish SUV look and emulated the CUV sporty designs from Korea and Japan that have been catching my eye. Unfortunately both the six-cylinder and Hybrid powerplant options are gone and in there place Ford has opted for the 2.5-liter as the standard four-cylinder engine and offers the 2-liter Ecoboost turbocharged direct-injection four-cylinder engine for better performance and a small 1.6-liter direct-injected four-cylinder for fuel efficiency – all are are mated to a "new and improved six-speed automatic transmission."  I was impressed with the stated 3500-pound tow rating on either a front- or all-wheel drive models. After driving the Focus the other day, I'm willing to consider Ford and like the idea of a smaller CUV … although really would like a diesel.
The new 2013 Ford Escape is not evolutionary; it's revolutionary. Gone is the truck-like appearance and boxy body. Gone too is the hybrid option, and even the V-6 powertrain. This is a modern crossover that's ready for a much more sophisticated customer.

Ford Motor Co. has stocked the new Escape with loads of technology and customer-friendly features. It can park itself, detect another vehicle in its blind spot and still top 30 mpg on the highway, although exact fuel economy figures have not been released.