Posted By RichC on January 9, 2014
Don't ask me why, but I'm going to update my old early 2007 Gateway NX570XL notebook computer with "another" new drive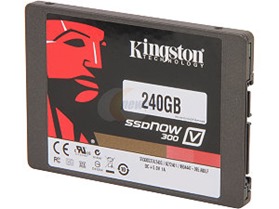 (I replace the drive once before with a larger HD when installing Windows 7 in 2010). This time I'll go with a Kingston 240GB SSD.
I've been watching the SSD drives since Cyber Monday and have been tempted by the attractive prices and hopeful speed improvements. This week, a cheap NewEgg 120GB drive was being offered for $69-something with coupon, but was sold out before I could purchase (it was small anyway). The 240GB was "once again" available at the Cyber Monday $129.99 price so I bit. Most likely I would have been smarter to trash the whole bulky and slow notebook, but since a new Macbook Air or Windows ultrabook is not something I've budgeted for  this winter or spring, I thought perhaps the improved speed from a SSD drive will keep me satisfied a bit longer … if I can clone my existing boot partition without too many issues? Yet to be seen.
Checking out the HowToGeek.com guide and wondering if there is a better guide? Thoughts?