Posted By RichC on October 29, 2014
Since moving away from Sprint and finally down to two cellphones in the family …except for a couple of spare emergency "burner" phones (grin) –one with my overseas travel SIM and the other a Samsung Galaxy S2 total free wireless plan on Freedompop. The point is that we were able to travel comfortably with our two iPhones (5 and 5s) and stayed connection 95% of the time using the low-cost Freecompop MiFi hotspot (paying $7.98/mo for LTE & 3G and rollover data) and the new Ting month to month mobile phone plan (although data rates are still a little high to tether). I ran Waze for GPS maps and navigation down and back from Ohio to Florida full time on my iPhone 5s and Brenda was on and off her phone regularly.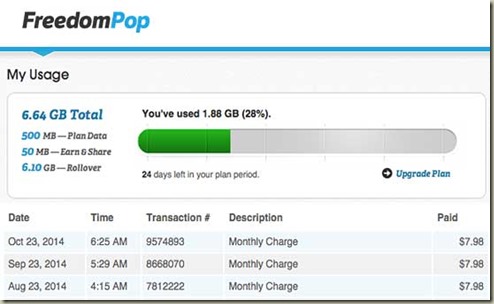 We used both phone and hotspot a bit more sparingly than normally – unlike a work trip or connected to "free" wifi, but so far I've been very please with both services. If you desire to move away from a contract plan and slim down your monthly wireless bill … and can live with 1 year old equipment, give Ting a try for your smartphones and Freedompop a try for your "limited" Internet connections (current Ting usage below).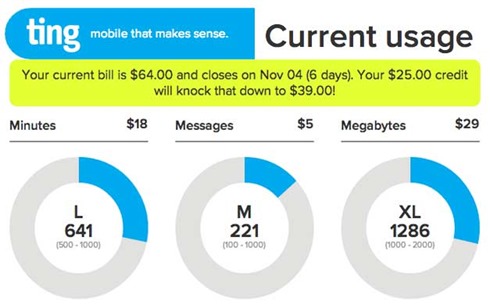 As a comparison: We switched from an unlimited Sprint plan (two phones $120) to the tiered Ting month to month plan … and it look as if we'll save at least $50/month. I only wish we could keep our data under 1GB/mo … but it is nearly impossible.
Disclaimer: I use a couple of VOIP apps on my phone (Freedompop and Google Hangouts) and computer to make outbound phone calls … reducing the number of minutes billed to Ting and Apple's Facetime for calls with the family.