Posted By RichC on March 22, 2017
Well the FTC has some simple advice for those "still" receiving robocalls even when on the Do Not Call List or Registry. Most of us continue to receive unwanted calls on landlines and cellphones, even we are on the registry (and have renewed). It is illegal unless you have giving the caller written permission. Many robocalls nowadays are likely scams and intend to harvest bits of information. Information can be as simple as just answering the phone (a working number).  Other are happy linking a name to a phone number or maybe getting your addresses, including email.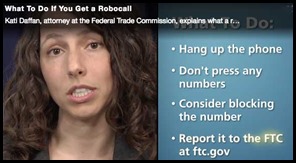 The most aggressive will attempt to verify numbers, like social security, bank accounts and credit cards. No doubt they will be sold on the dark web or to other marketers.
Follow FTC attorney Kati Daffan's advice:
Hang up
Don't press any numbers
Block the number
Report to the FTC … and maybe update the call on the National Do Not Call Registry.