Posted By RichC on October 17, 2017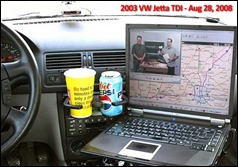 My mobile life is FINALLY working the way it should, just as my road life is slowing down. I've been monkeying around with the "mobile office" for A LOT of years starting with a 1999 AWD Chrysler Town & Country back in the late 1990s before mounting my Palm Treo in my great little Volkswagen Jetta TDI with a mounted Gateway laptop in the 2000s (photo right).
 The iPhone7plus paired with my iPad Air2/Brydge Keyboard and VirginMobile connection makes it easy and offers almost everything I need to stay connected while on the road at a currently affordable monthly fee – $10.08/mo after my June 2017 iPhone purchase.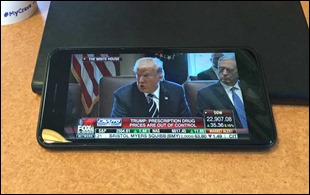 The new setup is running well at the moment and with LTE Internet streaming I'm considering giving up my SiriusXM set-up in my BMW X5 35d (or Honda Pilot)now that audio (and video if needed). The iPhone interfaces well with the new AVIN navigation setup and information display and can send video to the screen or audio (my preference) to the car speakers.  With the screen quality of the iPhone7 Plus, the video on the phone isn't a bad way to tune into a press conference (above yesterday) or Fox Business news update. The decision now is whether to use SiriusXM, a browser based streaming feed or the Slingplayer app accessing the Slingbox 350 at the house?