Posted By RichC on July 6, 2018
It is never fun playing plan games with wireless carriers, especially if you have been 100% satisfied with everything "as is." After switching to VirginMobileUSA last year due to a SUPER promotion, I could not be happier with Virgin's special price and service … but all good things seem to come to an end.

This month the 8 cents per month promo ends and the full priced InnerCircle plan of $60 for my phone (with 10GB mobile hotspot) and $50 for Brenda's phone kicks in … and so the shopping began. We could probably switch back to Ting, which was just fine, but required us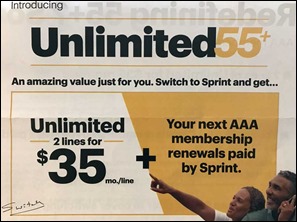 to monitor our use or end up paying for the next tier service (although we always had a fair bill and would highly recommend them for light users of data, etc).
Option 2 was to take advantage of the 55+ AAA promotion with Sprint; two line (BYOD) and unlimited service with a year of Classic AAA paid by Sprint. Nice! BUT … after several phone calls and a trip to the Sprint Store I remembered why I hated dealing with Sprint. The absolute worse customer service and stupidity. Their first answer was that you can't switch to the Sprint plan because your phones are on Sprint — Virgin uses Sprint towers. Their second answer was that I could buy a new device and get a new number – nope, dumb idea. Third, switch to a non-Sprint carrier then switch the phones back again and "port" my number back to Sprint. Huh?  Fourth was "maybe" they could "migrate" our numbers rather than "port" them, but the three different reps were unsure it would work and didn't know who could confirm I would not lose our phone numbers.

Brilliant … #sarcasm! 



Thankfully another phone call to retrieve my unpublished account number from Virgin in order to switch to Ting gave us ONE more option. Virgin must be losing enough customers that they offered a better plan with have as much "hot spot data" – 5GB vs 10GB; I can live with it. To make the plan even sweeter, if I auto-pay with a credit card, they will discount each line another $5 per month … bringing our TWO lines of unlimited talk/text/data wireless service with hotspot to $60 plus taxes (that's fair). After the waste of time both in the Sprint store and on the phone I was thrilled to not have to change carriers and save money and feel the effort was worth it. Thank you VirginMobileUSA … I'm happy to stay with you.