Posted By RichC on November 19, 2019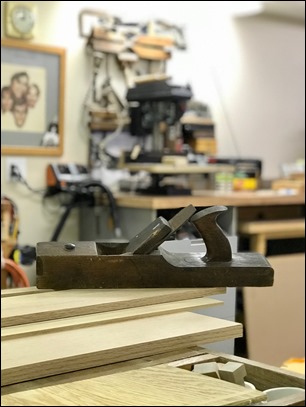 I spent the weekend wasting time reorganizing, sorting and cleaning up my woodworking workshop this past weekend and realizing I have a few older "semi-collectable" tools that I really should comment on … or as Brenda says, write my notes down in a book while I can still remember things.
Now as I mentioned to my kids, I'm not planning or even think that I'm going to die anytime soon … but there are a few things that should at least be mentioned. Back in 1969, my grandfather Richard Bluhm (my mom's dad and person I was named after), passed away before I was even 10 years old. Still I have so many fond memories of him and realized he was still one of the most important people my life. For one, he only had two girls … meaning he really didn't have any sons to pass down the "hands-on" workshop skills or the tools that he would have enjoyed doing (before the day women "wanted" to be in and learn traditionally male roles). In short, he always had me tinkering around with him … and I was probably a pretty interested grandson.
Anyway, when he died at age 69, I was given a bunch of his normal "modern" tools and continue to use them today, but one of the special tools that my mom made sure I had was a wooden jack plane from the mid-1800s that belonged to HIS father in Sandusky, Ohio (my great grandfather that I didn't know – I also think there was some connection to the Sandusky Tool Co, see below.) It has always had a prominent place in my workshop as a family heirloom, but since I also have tools from my father and his father, Brenda's father and Brenda's mother's father (a Jamestown NY furniture maker). I've sent the kids and email … but probably should write these things down in notebook or at minimum stick a post-it note on the bottom.
Below shows the Ogontz Bench Planes in a Hibbard, Spencer, Bartlett & Co. catalog from the mid-to-late 1800s and a bit of information below and from a blog.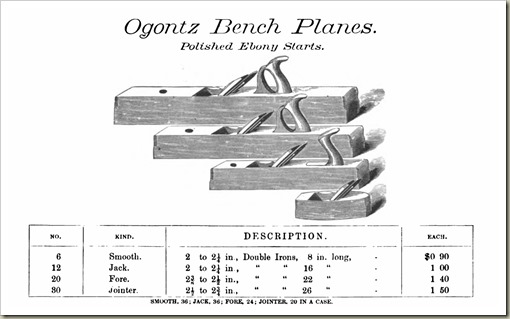 Ogontz was a "house" brand of Sandusky Tool Co. It appear the name came from an Ottowa Indian Chief that lived in the Sandusky area in the early years of the 1800's and was very helpful to the settlers during the War of 1812.

According to Wilbert G. Schwer, by 1905 Sandusky Tool Co. produced 75% of all the wood body plane blades sold in America.