Posted By RichC on January 6, 2021
Now that the final season of Last Man Standing has started (Jan 3, 2021), Brenda and I are finally catching up on the previous season that I recorded on the DVR. We had forgotten just how much we enjoyed this sitcom. It is hard to remember the last time both of us laughed at the same comedy, or political jokes that fit our political views, but it may have been a couple of years ago when we watch the same Tim Allen sitcom?

For us, it was enjoyable to watch several episodes back to back "together" since most of our "together TV" lately has been a weekend recorded, Netflix or Amazon Prime movie or a FoxNews or FoxBusiness show (most of which has been pretty depressing lately). I've been mostly avoiding television (no baseball, basketball or football this year) and Brenda semi-focused on Christmas movies or series rerun (again and again again – she says she just has it on for the mindless background noise, like I do for music). Anyway, it has been fun this week to laugh together and smile at the same things. We need to do more of it … "laugh and smile together" that is.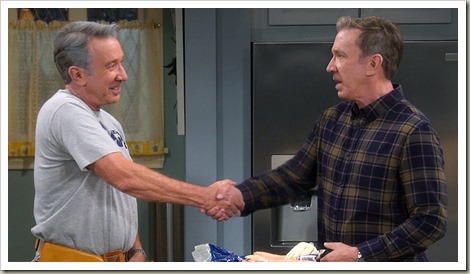 Unfortunately after 9 season and nearly 200 episodes, we'll need to find another show to watch together as "Last Man Standing is coming to an end, again."
The Fox comedy will end with its upcoming ninth season, which will premiere on the network in January.

The move means that the Tim Allen-fronted series will have run for 194 episodes when it ends with its ninth season being ordered for 21 episodes.

It marks the second time that the sitcom has come to an end; the show, which is produced by 20th Television, ran for six seasons on ABC and was axed in 2017. Fox, which at the time was part of the same corporation as the studio that made it, picked it up for a seventh season that premiered in September 2018.