Posted By RichC on July 7, 2021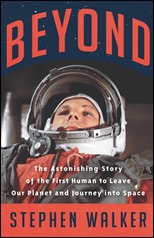 One of the segments from the Wall Street Journal that I especially enjoy are the book reviews … or the "bookshelf." I'm always intrigued by the history selections and the review on Stephen Walker's book "Beyond" was no exception. It so happened that it is also a WSJ+ "free book club read" for the month of June 2021, so I've added it to my Glose reader and will look forward to it once I'm finished with last month's book "All Against All." Once again, I've have a virtual pile of books in my eReader apps to finish up … although this one on the first man in space is especially interesting.
  "Beyond' Review: Cold War Cosmonaut"

Yuri Gagarin, the first man in space, held symbolic value for the Soviet Union, which claimed to offer a better system than the U.S.

Readers of Stephen Walker's fine new account of how Yuri Gagarin, a 27-year-old Soviet air-force major (he was promoted from lieutenant while circling the Earth), became the first man in space will discover quite a bit about Gagarin the man, but a great deal more about the program that put him into orbit 60 years ago, on April 12, 1961.

Vasco da Gama, Gagarin was not. For all his skill, toughness, unflappability and courage, he was no explorer. In a way, he was merely the most important of all the fauna that the Soviets shot into space. The first astronauts had relatively little control over their capsules; the first cosmonauts had far less.

Gagarin's value was primarily symbolic. He was not only the embodiment of humanity's scientific progress, but a living demonstration that the Soviets offered a better, faster path to the future than the U.S. His mission was to return alive, uninjured—and sane. To that end, during his training Gagarin, like other aspiring cosmonauts, was subjected to almost every brutality—physical and psychological—that his doctors could think up.

Like their American counterparts, the first Soviet spacemen had to be advertisements for the system in which they were raised, but more so.