Posted By RichC on September 9, 2014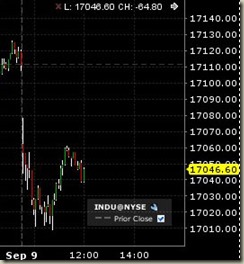 With the financial markets trading down today, $AAPL is bucking the trend prior to their big PR event and Apple product announcements. We know the new bigger phones (iPhone6's) are in the works but are unsure if they will announce a refresh of the iPad Air that includes the fingerprint sensor (works great on my iPhone5s). Most analyst are reluctant to commit to recommending $AAPL as a buy pre-event, believing the bar has been set very high for Apple's CEO Tim Cook.
The big event will be in California at 10AM PST (1PM) and suspect I'm not the only one paying attention. As a long time Apple device user, shareholder and a guy just interested in technology, I'm anxious to know if there is really something to the electronic payment using the iPhone or possible iWatch. I think this could be the most under estimated reason to switch ecosystems (from Microsoft or Android) or reason to upgrade to a newer device. Personally I'm hoping that the "iPay" technology (for lack of a better term) includes older devices with touch ID. (???)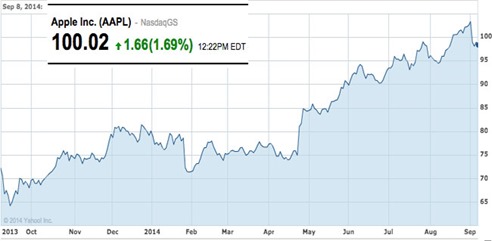 I suspect the market will also be interested to know if the wearable device can become the "next big thing" or IF perhaps Apple has a surprise announcement up there sleeve. I'll be paying attention … but not finding my way to San Jose … or Cupertino (sorry, its not U2 but Dionne Warwick from 1968).


Do You Know The Way To San Jose (MP3) Dionne Warwick – 1968