Posted By RichC on December 10, 2014
One of my favorite technology reporters, Joanna Stern with the Wall Street Journal, offered her thoughts on tablet keyboards just as started to use a Zagg Folio Keyboard case that arrived on Tuesday.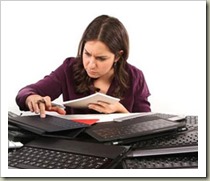 I've been waiting for a Brydge Keyboard for iPad Air2 (the space gray ships on Dec. 15th I'm told) and have been pecking on glass ever since I sold my 'cheapo' Logitech keyboard and case with my older iPad 2. Besides the smile inducing video presentations of her findings, hearing from someone who has had a chance to sit down with 20 keyboards is really helpful – LINK.
Obviously the Brydge Keyboard that was pre-ordered should of better quality since it is priced at $169 (thankfully I'm not paying full price) … but some of the others selling for half that price don't look too shabby. For me, the Zagg is easy to type on since I was already use to the tiny chiclet keys on the Logitech and a big improvement for typing instead of the virtual keyboard. One wonders why Apple hasn't addressed this?  Since I use the iPad as a notebook having a good keyboard is a plus, but the Zagg is really chunky — weighing in at 2.2 pounds with my lightweight iPad Air 2 mounted in the plastic housing! Granted it offers some protection and has a grippy rubber feel, but dealing with the hefty weight when it should be lighter sort of defeats the purpose of not carrying a notebook computer. Hmm … maybe I'll use it for a while and see if Zagg will honor their 45 day return policy? Who knows, I might end up liking it.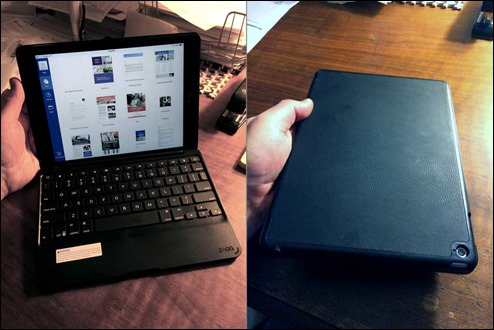 Of course noting Joanna's comment about the Brydge Keyboard in her review, I might not be so happy with it's weight either?
Now, if money is no object in your quest to turn your iPad into a laptop, the $170 BrydgeAir is the best option I came across (and what I plan to purchase myself). It is what I imagine Apple's own keyboard case would look like—and cost.
Eerily similar to a MacBook keyboard, it's made of the same brushed aluminum and the black backlit keys are incredibly sturdy. The cover has two hinged grips for holding up your iPad, allowing you to adjust the screen just like a laptop, even when your legs are crossed. That's because it's bottom heavy. The 520-gram case weighs more than the iPad Air 2 itself!
That works out to the 2.2 lbs for the Zagg and 2.1 lbs for the Brydge Keyboard. Hmm?
*** If you just want something better than typing on glass, check out this interesting keyboard from Touchfire.