Posted By RichC on December 11, 2014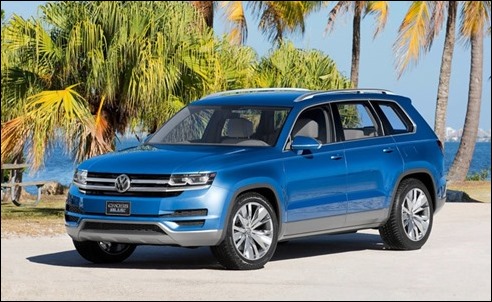 The U.S. built 2016 Volkswagen Crossover, teased way back in January 2013, may well be the replacement for my aging 2006 Honda Pilot that already has 200,000 miles – I'm not sure I can wait or whether the styling will change by then?
It is starting to look like VW may give buyers a choice: a 5-seater or the previously announced 7-seater. Either would be nice, but priced right, and with (or even without) an AWD TDI diesel engine and drivetrain, it will be a big seller in North America.
VW Crossover Concept to Debut in Detroit

The German automaker will unveil a five-seat version of its upcoming seven-seater crossover that it will build starting in 2016 at its Chattanooga, Tenn. plant.

Automotive News reports that the concept vehicle will head to production in a couple of years as Volkswagen looks to capture some of the growing crossover segment in the U.S.