Posted By RichC on April 6, 2015
There are several issues to address before gaining much confidence in our existing non-electric Cape Horn Self Steering gear … first and foremost is that I'm missing both the light and heavy air windvanes. These are the vanes which set the course based on wind direction and transfer the "off-track" detection to the paddle which in turn rotates the steering quadrant in order to correct course. Unfortunately replacing the two missing vane is expensive and most likely are not the only parts required to put the gear back in service (note the plastic parts above and current $145 price).
For short sails, we can always used the existing reconditioned Raymarine SPX-5 autopilot but it is a bit noisy and uses electricity. The required amount isn't overly significant unless the 12 volt motor has to run busily as it does in less than perfect conditions. The required power is definitely more than a simple lightweight unit which might be a possibility IF it can be rigged to our existing Cape Horn gear?
Here's a Cruising World "tip" article and photo detailing the idea: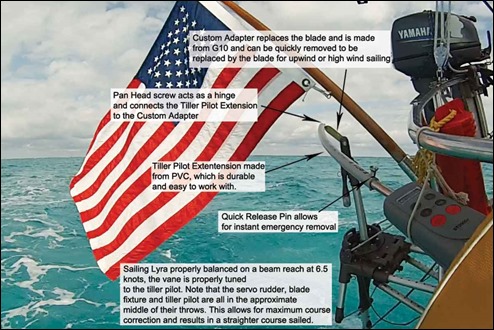 Meet Hermione, our Aries Lift-Up windvane, and Wanderer, our Raymarine Autohelm 2000 Plus. Over the winter we took our Reliance 44, Lyra, on a 3,600 nautical-mile winter escape. We estimate that 2,800 of these miles were steered by this duo, affectionately nicknamed "the autovane." While this setup does not steer as straight a course as a properly sized electric quadrant-mounted autopilot, it was good enough to stay in the channel on the Intracoastal Waterway and capable in up to 5-foot seas offshore. Power draw averaged less than 3 amps, 12 volts offshore and made it an inexpensive alternative to a proper electric autopilot. With the remote, we can steer a compass course, keep on course in light air or go directly to a waypoint, all from under our dodger or the companionway steps.

The "custom adaptor," made from G10, replaces the air vane in certain conditions, though the vane can be quickly installed for upwind or heavy-air sailing.
A panhead screw serves as a hinge and connects the tiller-pilot extension to the adaptor.
The tiller-pilot extension is made from durable PVC.
A quick-release pin allows for instant removal in an emergency.
With Lyra balanced on a 6.5-knot beam reach, the vane is properly tuned with the tiller pilot. The servo-rudder, blade and tiller pilot are in the approximate middle of their throws, allowing for maximum course corrections.