Posted By RichC on October 31, 2016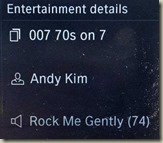 Time for a forgotten classic from my teenage music listening years. Heard this while switching to music in the car this week (burned out on political news) and thought … whatever happened to Andy Kim  or Baron Longfellow… or how about his birth name, Andy Youakim?

A lot I didn't remember… he co-wrote "Sugar, Sugar" for the Archies in 1969 (even though I mentioned it in a previous post!) and continued to perform under the Longfellow name in the mid-1980s and 90s. Hm … I just remember his 1974 hit "Rock Me Gently" … a song many thought was a Neil Diamond tune — they do have a similar sound.
| | |
| --- | --- |
| | Rock Me Gently | Andy Kim – 1974 |