Posted By RichC on August 24, 2017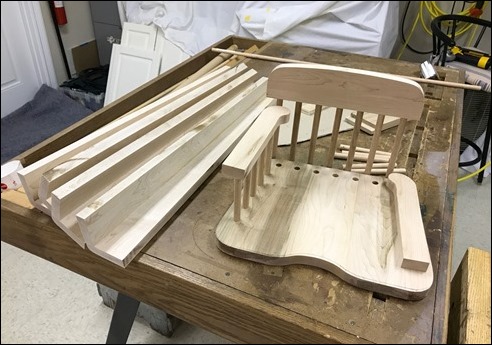 With a quickly growing granddaughter and new kitchen "cabinet height" eating area, the plan was to build a high chair to match the maple cabinets. I already purchased the paint for the corner cabinet modifications, so figured it wouldn't take much to whip up an appropriate sized chair for Annalyn – WRONG.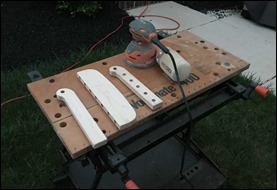 The original plans were for a combination rocker, desk and high chair (Amish design), but soon realized the height was not going to be conducive for this design.
So back to the drawing board (literally)and I came up with a "long legged" chair with tapered and angled legs. The multiple angles were challenging and required making a jig in order to match cut them on my table saw. The hard rock maple is great furniture wood, but cutting and working with it isn't as easy as something softer.
All in all the project is coming together well and to my eyes there are a few flaws in the precision …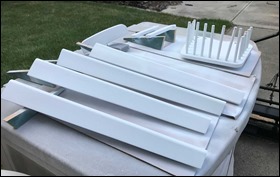 but the legs are solid and functional. Let's just hope that with the fitted seat cushion (to match the wicker chairs) and a couple rolled up blankets or small pillows, that Annalyn will be able to use this weekend. As you can tell by the darkness in the photos, I've been up late every night working to get it done (and wouldn't you know, my daughter called to let me know they were coming a day earlier!! Yikes!!!)


Watch the space below for the final photo below — currently working on  the second coat of paint to match the kitchen after the above 2 coat of primer – sanding between.