Posted By RichC on September 12, 2017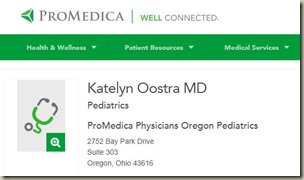 I do my best to keep the goings-on activities of Taylor, Katelyn and Drew up to date, so here's a promotional update after a move back to Ohio from Minnesota for my daughter Katelyn's new pediatric practice in Oregon, Ohio. Need a pediatrician?
It is a bit weird for having been  born in Toledo where my son-in-law Drew just had his orientation and then realize that my daughter is now a pediatrician next to the hospital that removed my tonsils and stitched me up after childhood injuries. Even more shocking is that her pediatric office in in the suburb city where I went to school until moving in high school.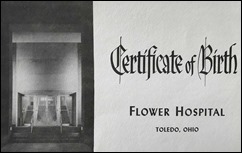 Who could have predicted that she would be right back in the small community where I grew up, considering she never knew the area at all — my parent and I moved from there 40+ years ago and we all pretty much severed our ties to Curtice/Oregon (except for family in Toledo)? To see Katelyn back in that same small community a couple blocks from my grade school friend's dental office is a strange coincidence.
Both Katelyn and Drew will now be in the same well respected hospital group that dominates Northwestern Ohio – Promedica. The need for doctors in Toledo worked well for both of them since it enable them both to negotiate positions at the same time and in the same move. Definitely a plus for their move back to Ohio after Annalyn's birth. When I pulled the "physician listing" to find the address for Katelyn's office, I noticed an interesting blurb in the new Promedica corporate offices infographic.  Huh, my dad's employer of 44 years was highlighted as a company that helped to grow the city of Toledo …  and now it is Promedica helping to revitalizing the city. It is great to see progress and the old Toledo Edison plant saved and being used to bring people back downtown (here is also a walk through the old Edison Steam Plant pre construction).


Speaking of Annalyn, what kind of grandfather would I be without sharing a photo … this one is a good one: Eating smashed up "bananas" for the first time. Very funny (a couple slow load ani.gifs below)
—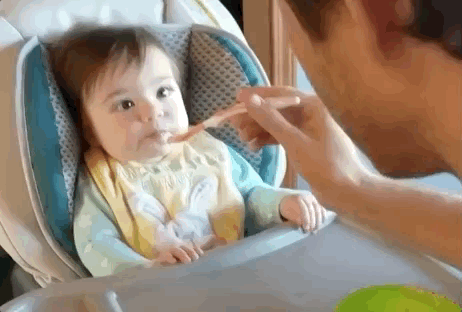 One more bite!