Posted By RichC on September 20, 2017
One of the biggest challenges for parents who have careers that take them outside the home is how to take care of your baby? It was the biggest challenge Brenda and I faced when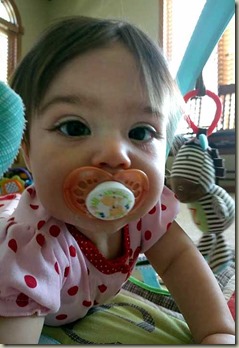 we had children in the 1980s … and the emotional issue is the same today.
Katelyn and Drew are fortunate to have made a job change and move from Wayzata, Minnesota at exactly the right time. This change enabling them to negotiate a few extra months before returning to work … BUT the inevitable does happen and little Annalyn needs someone to love her while mommy and daddy are away.



Thankful Drew's mom lives reasonably close and is in town.  She has a flexible personal schedule which enables her to watch Annalyn a couple days each week. Brenda decided to use one of her days off that corresponds to Katelyn's "current" 3-day per week work schedule – Tuesday (yesterday) was her first day as "grandma the babysitter" (I'm already a "grandpa the babysitter" veteran). There is a concern that the 4AM 3-hour drive up and 3 hours back in the same day could be taxing for Brenda especially sandwiched between her long workdays, considering she always wants to return home from "a vacation" one day early to rest up for work! Maybe when Annalyn moves to formula and food we can convince Katelyn or Drew to bring Annalyn to us on a Sunday and she can stay with us for a couple days? We will see how it goes, but for now … it is an opportunity to help out and spend time with Annalyn.
I've also added a couple Promedica new doctor introductory YouTube clips of Katelyn and Drew to a previous post … very doctorly!

Grandma Brenda taking Annalyn out for a walk. Both loved it!