Posted By RichC on November 18, 2017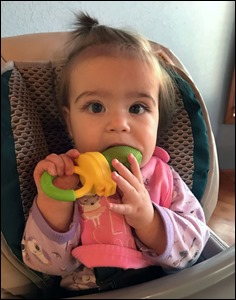 Have I mentioned just how great it is to be a grandfather? Well it is when you have a cute and loving granddaughter like Annalyn!
I spent a day babysitting her this past week and it is amazing just how fast she is growing up and advancing. She doing "pushups" and can roll any place she want to go, but is not quite crawling yet (so close). Katelyn and Drew have introduced a few chewing items so figured I would archive the dexterity and show off her two bottom baby teeth in the video below.
A new fangled item for me was this chewing gadget. Katelyn had a couple soft apples so I cut one up and put it into this little net gizmo with a handle. Annalyn had no problem grabbing it and can chew the juice out of the peeled apple slices (the next meal was a banana and it disappeared fast).
Along with eating normal baby food from a spoon, she does an amazing job with her fingers for these tiny rice "treats" and the larger apple flavored wafers. What a great day! (video below break)