Posted By RichC on December 14, 2019
Don't you just hate this! Earlier this week I was driving home through construction and traffic as I headed south from Columbus to Cincinnati on I-71 (road construction is not done yet!)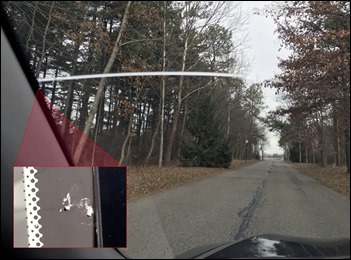 and I heard a rock hit the windshield. It sounded pretty nasty, but after looking around carefully from the inside, all was fine … or so I thought.
After seeing the split a couple days later, I realized that the stone much have struck right next to the pillar and behind the black edge of my 2010 BMW X5 35d windshield (no doubt an expensive one). The car is old enough that I would not have minded just an epoxy patch repair, but obviously I did not catch it in time. Bummer.
Currently, I'm in debate mode as to filing an insurance glass repair claim or paying out of pocket –especially after the surprise in 2014. I'm now far more mindful when debating on submitting a claim or shopping around and paying for semi-minor repairs on my own.